Vegeta-Land Rokunohe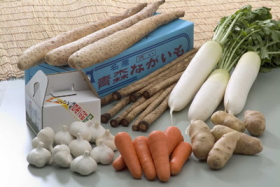 Rokunohe is known as 'Vegeta-Land' for the large amount of vegetables produced. Some 43% of Rokunohe land area is dedicated to rice or vegetable growing, including garlic, nagaimo, burdock, Japanese radish, carrots, cabbage, onions and potatoes. The bulk of the crop is sent off to the Tokyo and other metropolitan markets, however there is still an abundant supply available for local consumption. These can be purchased at the Maple Community Centre (see below).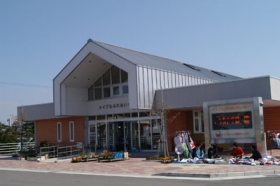 The Maple Community Centre has a number of roles. Since November 2007, the centre was officially designated as a Roadside Station by the Ministry of Land, Infrastructure, Transport and Tourism. As such, access to restrooms and parking spaces is provided 24 hours. During business hours, road and traffic conditions may be checked inside.
As a community centre, it offers a place to sit and use the internet, find out more information on sightseeing and the local area, or simply relax and enjoy a good meal at the restaurant. Souvenirs, handmade goods and local produce are all available in plentiful supply. If you are quick, you might even make it in time for some of the free taste testing before they all disappear!
Here are just a couple of the items available:
Rokunohe "Big Garlic"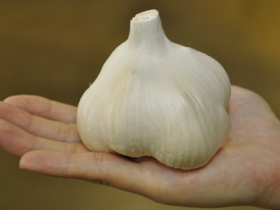 As the name suggests, the garlic in Rokunohe is BIG! Aomori accounts for well over half the domestic garlic production in Japan, and while Rokunohe is only the seventh largest producer in the prefecture, we have won numerous competitions for the largest garlic. To be classified as "Big Garlic", garlic must be over 7cm in diameter, and 130grams in weight.
Shamo-rock
Shamo-rock is a breed of fowl originally developed and bred in Rokunohe, and now famous throughout Aomori. It is derived from the "
Shamo
" breed of game fowl, and the broiler chicken "Plymouth Rock", hence its name "Shamo-rock". It is renowned for its taste, especially in soups and hot pots, and healthy low fat content. All birds are strictly free range.
The Rokunohe Shamo-rock Producer's Association is one of the main breeders in Aomori.
Rokunohe Doughnuts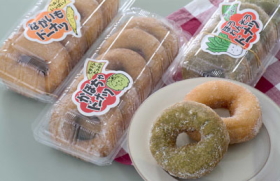 These unique, healthy yet tasty snacks are made with 100% locally grown vegetables. They are low in sugar and contain absolutely no additives. Nagaimo, pumpkin and spinach varieties are available, making them not only highly nutritious, but especially recommended for children who dislike eating their veggies!
Rokunohe Shochu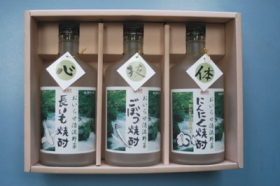 Shochu is a Japanese clear distilled liquor that is typically anywhere from 20% to 40% in alcohol content. Throughout Japan, there are many different base ingredients, often differing between regions, although the most common are derived from sweet potato, barley, or rice. In Rokunohe, three special varieties of shochu are distilled making use of the local produce. These are garlic, burdock, and nagaimo. Each of these is available in either 720mL (25%) or 1.8L (20%) bottles with all water sourced strictly from the Oirase River. In the 2008 Monde Selection awards, the Nagaimo Shochu received a Gold award, while the Garlic and Burdock both received Bronze awards (all in 720mL).
Note: Alcohol is not sold at the Community Centre. Rokunohe Shochu is available at A-Co-op Rokunohe Supermarket (Phone: 0176 55 3030) and Main Mart Liquor House (Phone: 0176 55 2194)
Last updated 2013.04.01
---